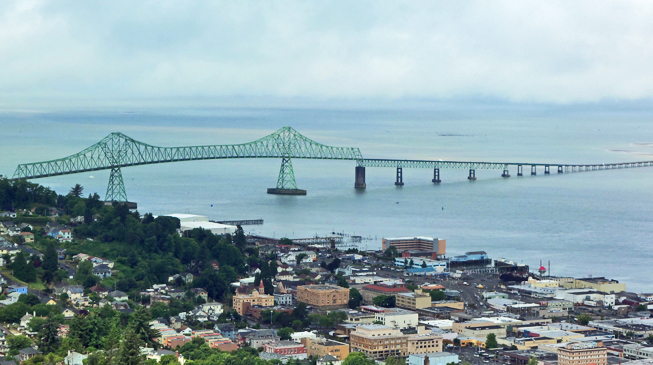 Astoria
Astoria is the oldest American settlement west of the Rockies. Its architecture is dominated by hundreds of Victorian homes clinging to steep wooded hillsides.
The downtown core area is a revitalized 1920′s-era collection of shops, restaurants, and theaters. All this nestled alongside the mouth of the Columbia River. Attractions include Fort Clatsop, the Columbia River Maritime Museum, the Flavel House, Fort Stevens State Park, the Astoria Riverfront Trolley, and the Astoria Column.
To guide you as you tour Astoria, the Astoria Chamber of Commerce has created downloadable audio tours that you can put on your iPod or MP3-compatible player.
Two tours take you to Astoria's historical attractions or locations where hit movies were created in and around Astoria. If you loved Kindergarten Cop, Short Circuit, or The Goonies, you'll especially enjoy this tour.
Each tour consists of multiple episodes narrated by local experts. You can listen to the tracks in any order, so you can visit each location at your leisure. At the Astoria Warrenton Chamber of Commerce website, you can view a video showing highlights from the tours, listen to the streaming audio episodes on the website, download individual MP3 episodes or all 34 episodes that make up the two tours and download PDF maps of each tour.
These audio tours are the perfect companion for your stay at Gearhart by the Sea. Astoria is a short 15 miles north of Gearhart, making it a perfect destination for you to visit while you stay with Gearhart by the Sea.
Here are some links to help you plan your time in Astoria: