It's that time of year when the moody blues of the Oregon coast make way for subtle pops of warmer hues. Characterized by September sunbeams and October flashes of golden leaves, autumn is the glorified 'second summer' in Seaside and beyond.
The summer for the seniors, that is. The time when the waves of the high summer crowds have fled in lieu of ringing school bells, and all is quieter on the oceanfront. Plus, the golfing greens the area is known for remain lush and pristine, surrounded by trees dressed in subtle, fall colors.
It's hard to say that autumn isn't the perfect time to visit Seaside, Oregon. Especially if you're sans-kids, appreciate coastal golfing, and have a soft spot for seafood boils laden with Dungeness crab and razor clams.
Three (3) Golf Courses that shine brightest during Autumn near Seaside, Oregon
Oregon's north coast is a gem of a spot to soak up late-season tee-offs, boasting half a dozen varied golf clubs within just a few hours' drive of Portland. It's an idyllic getaway for seniors who've patiently waited their turn to steal the golfers' seaside paradise. Seize the 'second summer' with these 3 picks for the best golf courses near Seaside to visit this autumn.
1. Gearhart Golf Links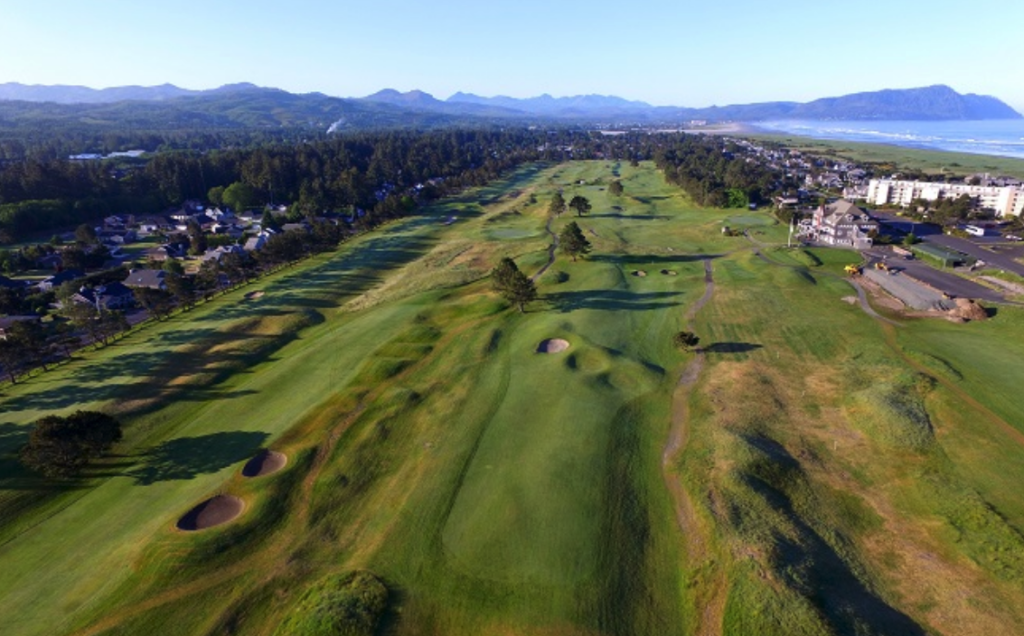 And there's Gearhart Golf Links, the blue-ribbon course winner on this stretch of the Pacific. Find this Scottish-style beauty cloaked in small-town charm, just a few miles north of Seaside.
With some legends of her own, this 18-hole golf course was engineered by a few Scotts in the 1890s and was inspired by their homeland courses; St. Andrews and Montrose. Over the years, it's earned quite a reputation, often referred to as the oldest golf course in Oregon, and the best golf course west of the Mississippi.
When to go to Gearhart Golf Links
Keep in mind that Gearhart Golf Links is a lay loved by many, and it's very likely you'll need an advance reservation of at least two weeks. Tee times are offered year-round from dawn till dusk, and like most things in Seaside, rates start dropping with the onset of autumn. And here's a little tip, save this one for last. Gearhart Golf Link offers the best views of the sun sinking beneath the sea. Plus, the resort at the adjacent Gearhart by the Sea, offers a handful of scrumptious eateries just off the course where you're sure to find those razor clams you're looking for.
Course details:
18 holes, par 72
Rates: $95 for a round in September, $80 in October
Slope rating 136
67.9 USGA Rating
Pro Shop, power carts & clubs for rent
Renowned onsite restaurant & bar
Vicit Gearhart Golf Links online
2. Astoria Golf and Country Club
Now for Astoria, sounding glamorous from the start, it's the namesake golf course for the coastal town just 8 miles north of Seaside. You'll likely hear it lovingly referred to as \'\'The St. Andrews of the Pacific.\'\' This nickname is inspired by its comparison to a legendary Irish golf course, both in appearance and atmosphere. But, it's more than a nostalgic impression, as the Astoria Golf and Country Club has been listed by Golfweek in the 'Top 100 Classic Courses in the United States.' And, it annually hosts the coveted Oregon Coast Invitational Tournament.
When to go to Astoria Golf and Country Club
The Astoria Golf and Country Club is a private, member-owned golf course, open year-round. Hours vary seasonally and daily, so it's best to inquire within about your desired playtimes.
Autumn is a wonderful time to visit, as Astoria is well-known for a variety of fall-themed events, festivals, and activities throughout September and October. The first week in September is especially desirable when the town presents the ever-popular Wheels and Waves antique car show. Stay tuned for upcoming announcements of the 2021 dates.
Course details:
18 holes, par 72
Rate: Annual, private membership with $1000 initiation and $365/month
Slope rating 122
71.8 USGA Rating
Pro Shop, golf lessons, power carts & clubs for rent
Lodging partners with Gearhart by the Sea
To sum it up, North Coast Oregon offers a somewhat surprising destination for those seeking an autumn escape. It's a true trifecta; boasting coastal landscapes, first-class golf courses, and a uniquely Oregonian take on the autumn atmosphere.
3. Seaside Golf Club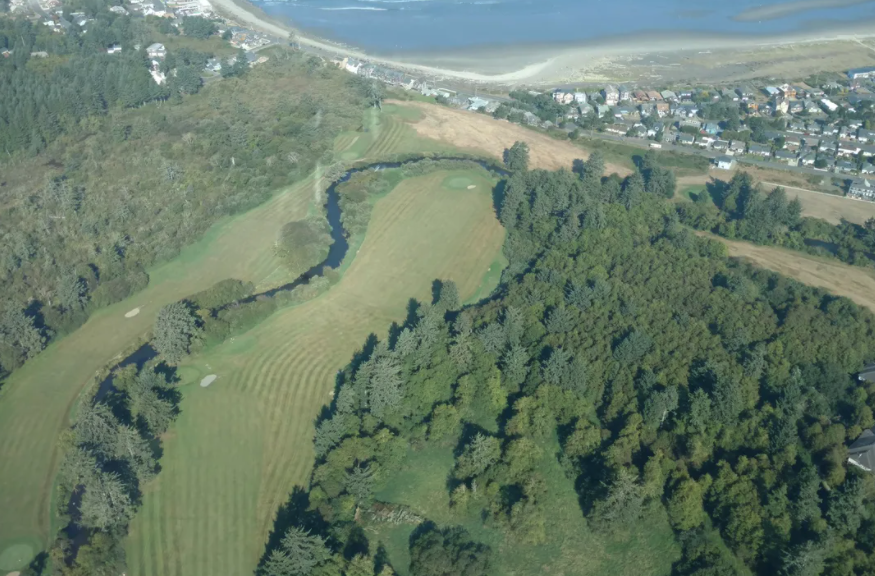 Starting in the heart of Seaside itself, the Seaside Golf Club is a rolling 25-acre golf course wedged between the Pacific Ocean and the Necanicum River. If you're looking for tees steeped in history, the Seaside Golf Club certainly has that on its side. Here, you'll step onto greens nearly 100 years old, crafted by US golf legend, Chandler Egan. He won the Olympic gold medal back in 1904 and subsequently claimed the area as his playground, architecting numerous award-winning golf courses along the North Oregon Coast, including this one.
When to go to The Seaside Golf Club:
The Seaside Golf Club is open from 8 am to dusk, seven days a week year-round. Rates start dipping just in time for autumn, with the onset of October. It's a great spot to select for an early bird tee time, as the breakfast offered at the on-site Par-Tee Dining Room is just as popular as the course. As the season goes, the last week of September is a great week to be near Seaside for both golf and food!
It's prime time for do-it-yourself crabbing events centered around the 12th Avenue Bridge. Plus, the beloved Seaside farmer's market runs well through September, offering fall favorites like apples, pumpkins, and more.
Course Details:
9 holes, Par 35
Rates: $40 for 18 holes in September, $32 for 18 holes in October
Slope rating 104
33.3 USGA rating
2593 yards from the longest tees
Pro Shop, clubs, and cart rentals available on site
Visit Seaside Golf Club online
If you find yourself looking for a central location, and a home away from home, we invite you to start your search with us here at Gearhart by the Sea.
Categories