We're midway through the calendar year, and the tickle of the midday sun is stealing the focus from our workweek brains. Those intoxicating beams of sunlight sneaking into the stark blue lights of the workspace are to blame. There's no denying it. Summer has arrived. And it's time to fly the coop in lieu of Northern Oregon's beaches.
Fortunately, the best family beaches are just a stone's throw from Portland. And going to the beach is easy, so long as you plan for the kids.
The best beaches for families in Northern Oregon
Looking to fly kites, ride bikes, surf, or scour the tidepools? How about clam digging, hiking, or golfing? You can find it all about 90 minutes outside of Portland.
Exploring Cannon Beach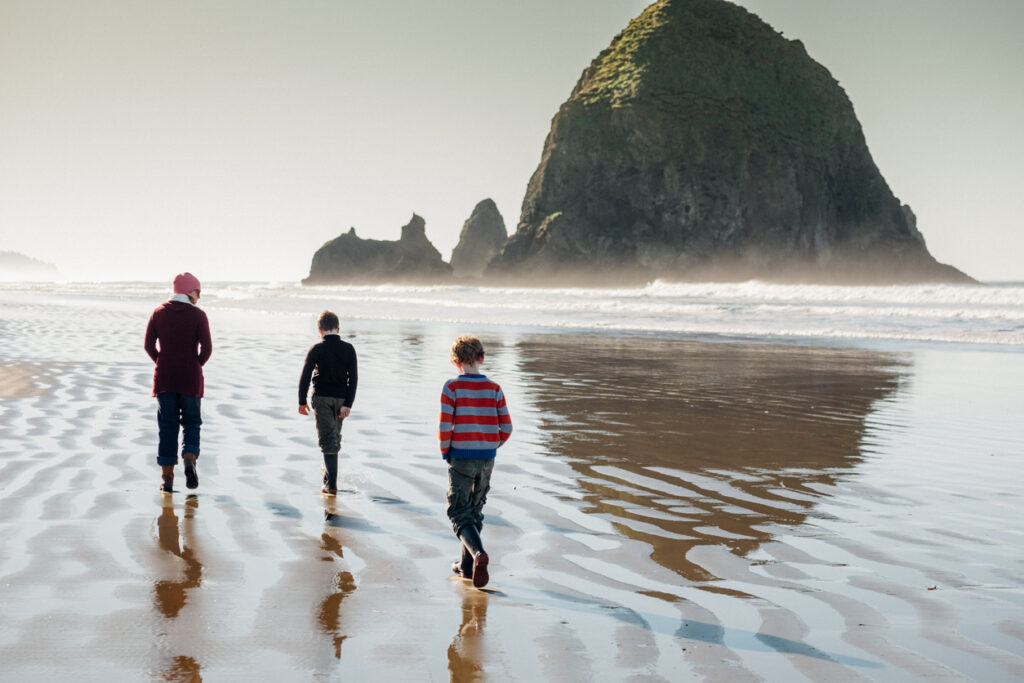 When on a mission to find the best beaches for families in Northern Oregon, it's only natural to beeline for Cannon Beach. Just 80 miles northwest of Portland, this itty bitty seashore town harbors four miles of coastal eye candy. And it's perfect for the kids because, as small as it is, it's impossible to run out of things to do. Plus, rows of airy cafes and pubs make it super easy to pause for lunch and then stick your toes right back in the sand.
Horseback riding, kiting, biking & bonfires
However, it is helpful to plan your day on Northern Oregon beaches by the tides. Early mornings offer the serenity of misty horizons and waning shorelines, idyllic for perusing the tidepools and trotting by horseback. And as the day wears on, it quickly becomes obvious that Cannon Beach is a kiting and biking paradise. Yet, there's plenty of room for surfing and sandcastles, too.
Or, if the sunset is more your thing, hang around for bonfires and s'mores, they are certainly a quintessential part of the Cannon Beach experience, too.
Enjoying Gearhart Beach
Even so, not everyone is looking for the most popular stretch of Northern Oregon beaches. If that's the case, just set your GPS a few degrees to the north. And gear up to get your heart stolen by Gearhart Beach….all puns intended.
Unspoiled Northern Oregon beaches & clam digging
Gearhart Beach is probably the best-kept secret of the region. But, don't mistake seclusion and unspoiled beaches for meaning there's nothing to do. This secret spot has all the makings of other popular Northern Oregon beaches; like kiting and biking, surfing and bonfires. Just minus the crowds. And, its utter rawness comes with a few special perks that make it unique. Namely, it's a hot spot for finding sand dollars and clams, a pivotal experience of exploring the Pacific NorthWest.
Northern Oregon 18-hole golf course
Plus, this Northern Oregon beach quietly boasts something few others can claim. Gearhart Beach offers a historic, ocean-view golf course sprawling 18-holes over 100 acres. It's considered the oldest golf course in the Western USA. And even if you're not drawn to teeing off, it makes for a pretty epic lunch spot with super nostalgic vibes, especially if you hang around for the sunset.
Wandering into Seaside
For a sweet spot that'll land you wedged between the two above, in both location and experiences, Seaside is sure to tick off all the boxes. This pick of the Northern Oregon beaches is swift and subtle in its delivery but is definitely among the best beaches for families.
Ice cream shops & historic Oregon beach promenade
Seaside is idyllic in that dreamy, pastel-colored sort of way. This coastal town prides itself on old-school allure with ice cream shops and arcades, a historic carousel, and a hundred-year-old promenade. And it's quick to remind you that surfing, skating, biking, and kiting are not the pastimes of a bygone era. They are well and thriving, seemingly as stitched into the year 2021 as they were back in 1920.
Seaside is also a terrific break from the beach where you can pick up lunch to-go and head back on to the sand for a family picnic. For more information on picnic-ing on the coast be sure to check out our post on 'Choosing the best picnic places near Gearhart'.
Discovering Indian Beach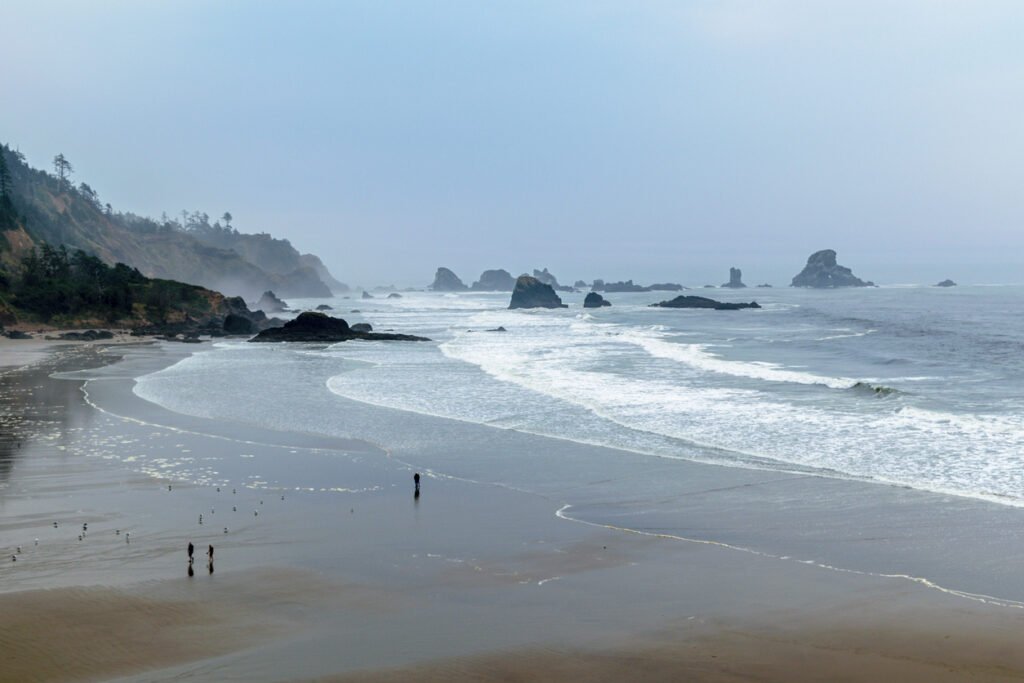 If you're looking for something a tad more raw and rustic, take your chances on the wild and wonderful Indian Beach. This is the spot to find that nature-immersed experience iconic of Northern Oregon beaches. So pack a lunch and seize the day! Getting to Indian beach requires a 2.5-mile meander along a spruce-flanked trail within the Ecola State Park. It's best accessed via the aforementioned Cannon Beach.
Northern Oregon beach trail & lighthouse
Keep in mind, the Indian Beach Trail is often muddy and isn't stroller-friendly, and there isn't much in the way of services. But, it isn't difficult and does have picnic areas, viewpoints, and bathrooms along the way. And getting off the beaten path will be well worth it to experience this incredible Northern Oregon beach. The trail opens up to a tiny but scenic cove flanked by the volcanic cliffs of Tillamook Head, offering spectacular views of the Terribly Tilly Lighthouse.
Where to stay on Northern Oregon beaches
If all four options sound like a dream, why not take a long weekend or book a full week on the Northern Oregon Beaches? Gearhart by the Sea offers just what you need, a place to relax, with dozens of oceanfront vacation homes and condos to choose from.
For more information on what to see, do and sample on your next Northern Oregon vacation, check out Visit Oregon, our state's tourism authority.
Categories