When you book a stay at our Oregon Coast resort, Gearhart by the Sea, you'll have access to several local activities. Visit the spectacular Haystack Rock at Cannon Beach, embark on marvellous nature hikes, and dine on scrumptious seafood classics. However, there is one thing to do in Cannon Beach that you can't pass up during your next visit. Going clam digging in Oregon is a time-honored experience and tradition on the West Coast. Learn all about razor clams and search for them with friends and family. Once you've collected your allotted 15 clams, bring them back with you for a tasty, local treat.
Clam Digging in Oregon for Beginners
If this is your first-time clam digging Oregon, you're in for an experience you'll never forget. Clatsop beaches have the densest razor clam population, but you can also go to other beaches in the area for your harvest. Please note that an individual must take the first 15 clams they find, regardless of size or broken shells. Often when diggers attempt to rebury clams they don't want, they inevitably end up killing most of those shellfish. Clams with broken shells will be just as tasty as their unmarred brethren. If you aren't satisfied with the shell sizes, you can go out the next day and try again.
When & How to Start Digging for Pacific Razor Clams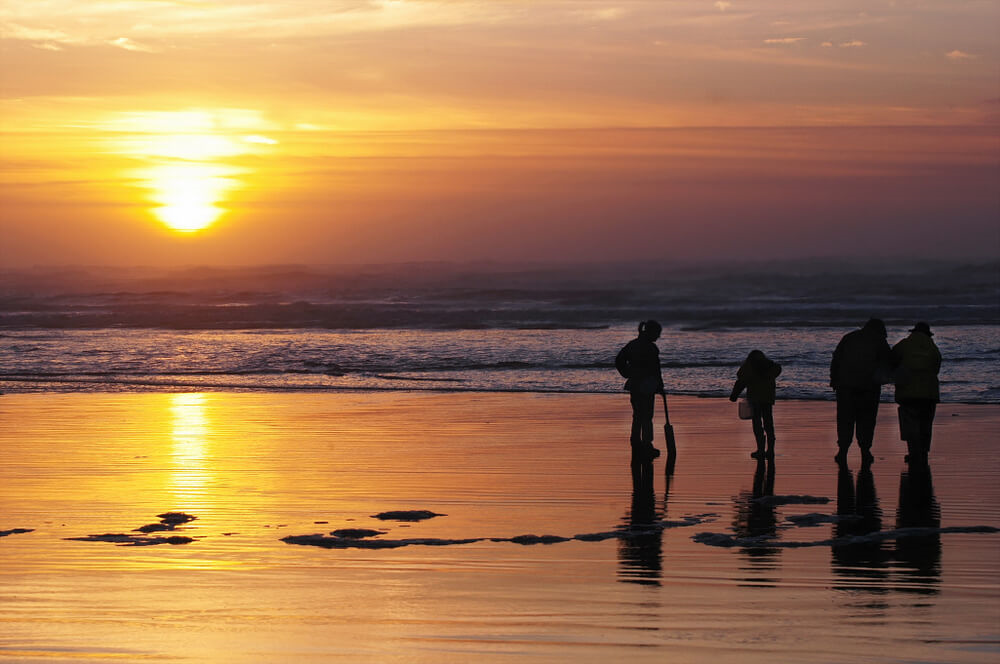 Plan on being at the beach two hours before the tide reaches its lowest point. Once you're there with your shovel (or PVC pipe-turned-clam-gun), search the sand for dime-sized dimples. If you don't see any, pound the shovel handle under the surf so that clams will create the dimple. When it comes to digging, you have to be fast.
Razor clams won't hesitate to burrow further into the sand, and they can dig down nearly four feet. When you dig, make sure you place the spade straight down into the sand and then push the handle forward. This inhibits the clams from making a getaway. Carefully retract the shovel and replace it with a (preferably gloved) hand. Retrieve your bounty and repeat until you've caught up to 15 clams. The Oregon Department of Fish & Wildlife has provided a visual guide with additional tips on clam digging in Oregon. Use this helpful guide to clean and prepare your delicious shellfish finds from the comfort of the fully-equipped kitchen in your Oregon Coast rental.
Live Your Best Oregon Life at Our Cozy Resort
Engage with local traditions, like digging for Pacific razor clams, during your stay at Gearhart by the Sea. Our luxury resort grants access to exquisite sunsets and excellent outdoor adventures while providing comfortable lodging for friends and family. Please contact us to book your stay in Gearhart, Oregon.