Gearhart stands as an exquisite gem along Oregon's coast, with unspoiled beauty to be explored and a rich canvas of experiences waiting to be enjoyed. Embark on adventures that range from serene beach explorations to invigorating forest hikes. Indulge in an array of tasty delights that promise to tantalize your taste buds with the local flavors.
Your comprehensive Gearhart travel guide is here to assist you in crafting an unforgettable stay in this picturesque town. Delve into our well-curated advice and tips designed to suit romantic escapades as well as family outings. From the finest accommodations to culinary highlights and engaging activities — we facilitate your journey to reconnect and rejuvenate in the magnificent backdrop of Gearhart.
So, whether you're planning a romance-infused retreat, a family vacation filled with bonding moments or a fun friend's getaway, Gearhart extends a warm invitation to experience the perfect escape.
Just Where is Gearhart?
Situated along the northern stretch of Oregon's picturesque coastline lies the tranquil town of Gearhart, offering a sublime blend of serene beaches and lush forest landscapes. Just a stone's throw away from its bustling neighbor, Seaside, Gearhart provides a soothing contrast with its expansive sandy beaches that merge with the cool Pacific waters.
A distinctive aspect of Gearhart is its diverse geographical canvas. It is surrounded by stretches of coastal forests, home to a rich variety of flora and fauna, offering both a beachfront getaway and lush woodland retreat. This coastal enclave sits within a landscape characterized by undulating dunes, creating a dynamic and ever-changing natural environment that invites exploration and admiration at every turn. The area truly epitomizes the geographical diversity and natural allure that Oregon is renowned for.
Embracing the All-Season Charm of Gearhart, Oregon – Is There a Best Time to Go?
During the winter season, which spans from November to February, the town experiences its coldest and wettest period. Temperatures generally hover between 35°F and 50°F (1.7°C – 10°C), with substantial rainfall and occasionally stormy conditions. Despite the chilly weather, winter can be a magical time to visit for those who enjoy the serenity of the coastline with fewer crowds.
Spring, from March to May, brings a gradual warming trend, with temperatures ranging from the mid-40s to the mid-60s Fahrenheit (7°C – 18°C). This season graces Gearhart with blooming flora and clearer skies, making it a delightful time for hiking and other outdoor adventures as the landscapes reawaken from their winter slumber.
Summer, which spans from June to August, is arguably the best time to visit. Temperatures during this season are pleasantly warm, generally ranging from 55°F to 70°F (13°C – 21°C). With extended daylight hours and a minimal chance of rain, summer invites visitors to enjoy the pristine beaches, explore the town's outdoor landscapes, and indulge in vibrant sunsets over the Pacific Ocean.
Fall in Gearhart is a tranquil time to visit with temperatures varying from 50°F to 65°F (10°C – 18.3°C). This period, occurring from September to October, offers a pleasant reprieve with lesser crowds, allowing visitors to enjoy a peaceful getaway. The natural scenery transforms into a palette of warm colors, offering beautiful vistas for photography enthusiasts.
Given the mild summers and picturesque scenery, the best time to visit Gearhart would be the summer months, followed closely by the spring and fall for those seeking a more tranquil escape amidst temperate climate conditions.
Things To Do in Gearhart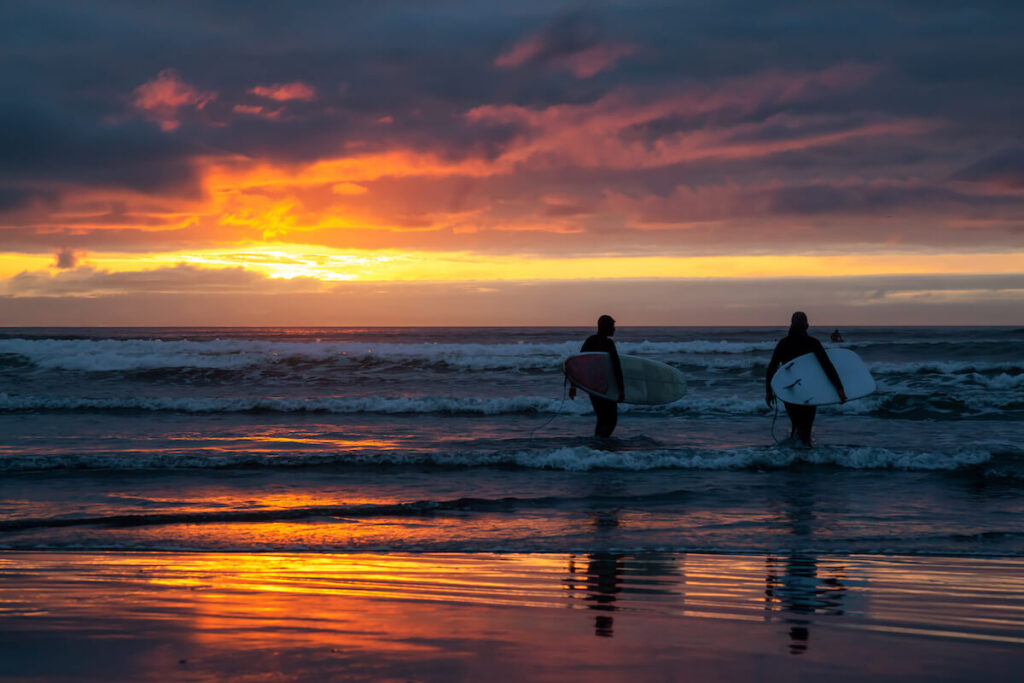 When you're looking for things to do in Gearhart, you'll be spoiled for choice! To start with, the beach here is absolutely stunning, and well worth a visit even if you just want to relax and take in the incredible views. Surfing near Gearhart is popular with its beaches providing ideal surf conditions for both beginners to moderate level surfing.
If you're feeling active and want to explore Oregon's lush landscape, go hiking around Gearhart. Hike to incredible viewpoints for that insta-worthy snap and encounter the region's beautiful flora and fauna en route. Get up close and personal with the region's wildlife by birding along the Oregon coast or make your own seafood dinner using the calms you collected razor clamming on the beaches.
For those golf aficionados, practice your swing in one of Gearhart's golf courses; Gearhart Golf Links is a must-visit for any golf fans and is one of the oldest courses in Oregon, plus the views from the fairways are simply breathtaking.
If you're in need of some retail therapy, you'll find everything you need in the shops around Gearhart. From outlet centers and shopping malls to quaint seaside shops, you and your loved ones can shop till you drop around Gearhart.
See the Sights
Gearhart Golf Links is a historic seaside golf course that opened in 1892. It is Oregon's oldest oceanfront golf course and features beautiful views of the Pacific Ocean. The course is located just a short drive from downtown Gearhart and is open to the public.
Ecola State Park is a must-visit for any nature lover. The park offers stunning views of the Oregon Coast, as well as hiking trails, beach access, and picnicking areas. Visitors can also spot whales off the coast from Ecola State Park.
Cannon Beach is a popular destination for its natural beauty and diverse range of activities. It's the perfect spot for a day of fun in the sun. The beach is great for swimming, sunbathing, or simply relaxing and enjoying the incredible views. It is also dog-friendly, so don't forget to bring your furry friend along for the fun!
The Seaside Aquarium is a great place to learn about the local marine life. The aquarium features a variety of exhibits, as well as touch tanks where visitors can get up close and personal with some of the sea creatures. The aquarium also offers educational programs for all ages.
Wine and Dine in Gearhart
McMenamins Sand Trap Pub: Located in the Gearhart Golf Links, this pub is the perfect place to enjoy a pint and some pub grub after a round of golf. The menu features classic pub fare like burgers, sandwiches, and salads.
Grandmas Corner Restaurant: This local favorite serves up home-style cooking that will remind you of your grandma's cooking. The menu features food favorites like traditional sandwiches, homemade burgers, and home-style breakfasts.
Gearhart Bowl & Fultano's Pizza: This family-friendly spot is perfect for a night out with the kids. The menu features pizza, burgers, and other American classics.
El Trio Loco: This Mexican restaurant is a great place to enjoy some authentic Mexican cuisine. The menu features classic dishes like tacos, enchiladas, and burritos.
Dooger's Seafood & Grill: This seafood restaurant is a great place to enjoy fresh seafood. The menu features seafood favorites like crab cakes, chowders, and fish and chips.
Where to Stay
Although there are a few different types of accommodation available in the area, the most popular options are hotels and vacation rentals in Gearhart. They each have their own unique benefits. Hotels are a great option for those who want the convenience of having everything taken care of for them. From room service to housekeeping, you can relax and enjoy your vacation without having to worry about a thing.
Vacation rentals are the ideal choice for those who want to be right on the beach and feel like they're at home while on vacation. With a kitchen, living room, and often multiple bedrooms, vacation rentals offer ample space for families or groups of friends traveling together. You also can wake up to stunning ocean views and easy access to the sand and surf. This type of accommodation offers the ultimate relaxation.

Come and Explore Gearhart
As we wrap up our journey through the tranquil and picturesque town of Gearhart, we trust that this guide will aid you in crafting an unforgettable trip filled with scenic beauty, adventures, and relaxation. Whether it's your first visit or a cherished return, Gearhart welcomes you with open arms, offering a slice of paradise on the Oregon coast.
Begin booking your Gearhart accommodation and explore this beautiful coastal gem!
Frequently Asked Questions about Traveling to Gearhart
What is Gearhart known for?
Gearhart is known for its beautiful beaches, golf courses, and quaint downtown area. The town is also a popular destination for whale watching.
What is the nicest beach in Gearhart?
The nicest beach in Gearhart is at Ecola State Park. The beach is well-maintained and offers stunning views of the coastline and scenic hikes.
What is the best time of year to visit Gearhart?
The best time of year to visit Gearhart is definitely during the summer months! The weather is warm and there are plenty of activities to do both in and around town. From hiking and biking trails to spending a lazy day under the sun.
Categories